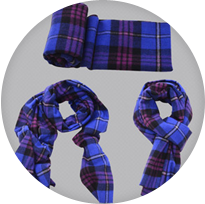 Woollen wrap around (Stole)

Made from super fine wool blends, the
woollen wrap around is a recent product introduced and manufactured by the company.
Welcome
Arora Enterprises Private Limited
Arora Enterprises Private Limited is one of the leading manufacturer & export house of Blankets, Mink Blankets , Woolen Fabrics, etc. The huge production base, versatile plant and machinery, coupled expertise makes it possible to produce the finest of blankets & woolen fabrics and other fabrics as well. Rightly the company has carved a niche for itself in the global arena.

Our Product range covers Woolen Fabrics & Mink Blankets, Tweed Fabrics, Lohis & Shawls, Check Jacketing fabrics, Blazer fabrics, Woolen cloth, Mufflers, Stoles and all fashion accessories in woollen fabrics as well as embroidered fabrics.